Yannis Rung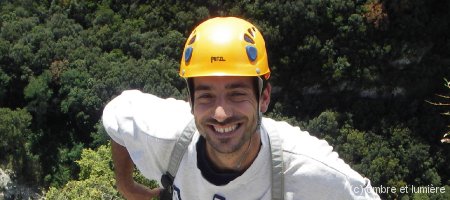 I have been a canyoning-caving guide for more than 10 years ; I have got indeed a state-registered degree for these two activities, and complementary degrees in other activities: climbing, canoe, rafting, hydrospeed… I have been sharing my hobbies for many years, in the professionnal world (as a guide) and in the federal environment (responsible for the caving club of Les Vans).
I will know how to satisfy your willings, thanks to my quite long training experience, mainly in Rhône-Alpes (France), and to my several journeys and trips abroad: Papua New-Guinea, Sardinia, Corsica, Haiti, Dominican Republic…
Funny and friendly mood as well as professionnalism will allow me to lead you through gorges, cavities in the best conditions, and will make your day be an unforgettable one.
I propose you personally-adapted and original journeys, for you to discover the natural environment with a new eye.
Activities are adaptes to all, they can be practised to a "discovery" level on a day long outing, or as more "exposed" outings on a few days for the sportiest.